Merge EDU featured at the Verizon Innovative Learning Lab
South Florida Students Impressed, Inspired by High Tech Learning Lab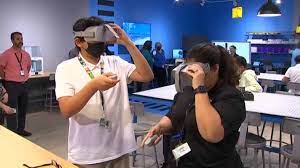 Using modern technology to learn about the distant past. That's what they're doing in Maria Mairajuddin's science class at Glades Middle School.
"This is an extinct animal, it's name is the dodo bird," Mairajuddin said to the class as she gestured to the smart board.
However, this lesson goes far beyond the standard smart board technology. The seventh graders are in the brand-new Verizon Innovative Learning Lab, the first of its kind in Broward County Public Schools.
"So I'm gonna scan this table right here and put the dodo bird on your table," Mairajuddin says to the students, all of whom are sitting in groups at lab tables.
Through the magic of something called a Merge Cube, a life-size dodo bird appears in 3D on their devices.