Merge HoloGlobe Brings NASA and NOAA Satellite Data to Classrooms in Mixed Reality
Merge HoloGlobe brings NASA and NOAA satellite data to the Merge EDU Platform, providing stunning views of the Earth and its many processes and systems.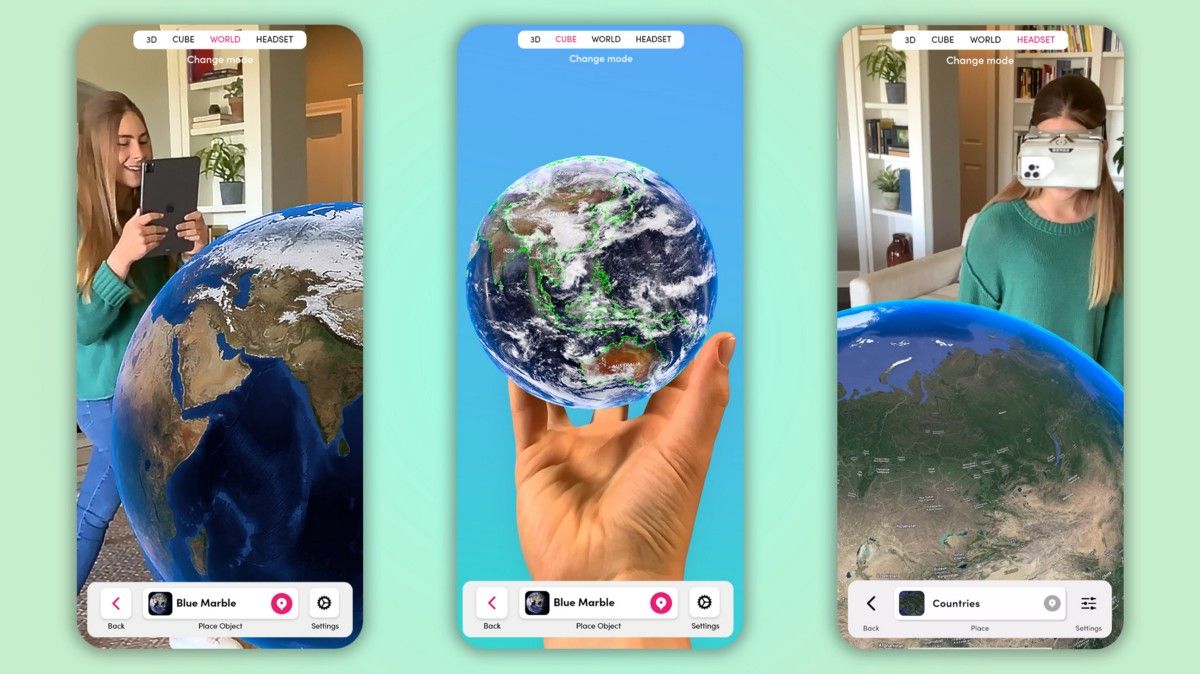 San Antonio, TX | April 19, 2022 — Merge, a leader in mixed reality (XR) for K-12 education, is announcing their newest app in partnership with Palmyra Cove, Merge HoloGlobe. Merge HoloGlobe brings NASA and NOAA satellite data to the Merge EDU Platform, providing stunning views of the Earth and its many processes and systems.
HoloGlobe is a free resource for K-12 students, educators, and citizen scientists to learn more about Earth using real scientific data, including rainfall, cloud coverage, ocean and land temperature, wildfires, snowfall, and more using mixed reality. Students will be able to use HoloGlobe to study trends and make predictions using both real-time and historical satellite data.
The free app can be downloaded on the Apple App Store and Google Play Store.
This is the company's first product built from the ground up to support using the Merge Headset (HMD). With XR and the Merge HMD, students will experience learning with virtual objects that look and feel like part of the real world.
Before now, this technology has only been available on devices like the Microsoft Hololens or Magic Leap devices, but with a mobile phone and a Merge Headset, anyone can experience HoloGlobe in XR.
"HoloGlobe marks our move into MetaObjects — objects that exist in virtual or augmented reality and provide enhanced functionality compared to their physical predecessors," said Franklin Lyons, founder of Merge. "We envision HoloGlobe as a technology-rich alternative to traditional, physical globes for use in both the classroom and at home."
With this release of HoloGlobe, Merge has also created a new technology called Automatic Screen Alignment that repositions the left and right screens based on how the user adjusts the lens positions to match the user's interpupillary distance (IPD). This enhancement dramatically improves the viewing experience, and solves a long-standing problem with mobile HMDs. Accurate IPD settings provide a more comfortable viewing experience, help get a clear image, and reduce eye strain.
Over time, the company will continue to add more digital layers to HoloGlobe, using additional NASA, NOAA, and other satellite and sensor data designed to track Earth's processes. A priority for Merge is making this data accessible to as many students as possible around the world.
About Merge
Merge develops award-winning augmented and virtual reality products for K-12 education. Their spatial computing technology lets students touch and interact with digital 3D content for effective new ways to learn.
The Merge ecosystem consists of Merge Cube, Merge Headset, Merge Miniverse, and Merge EDU platform. These products enable students to interact with AR/VR content and learn in profound new ways, while giving teachers new tools to increase student engagement, intellectual curiosity, and classroom achievement, at home and school.
Merge technology is used in K-12 schools, libraries, museums, universities, healthcare, environmental science, and other industries around the world. Visit www.MergeEDU.com.
PRESS CONTACT
Merge Press
press@mergeedu.com