Visualize your 3D Print designs with a Merge Cube
Using the Merge Cube can save time and resources by allowing designers to test and iterate designs in a virtual setting before committing to the final design and proceeding with 3D printing.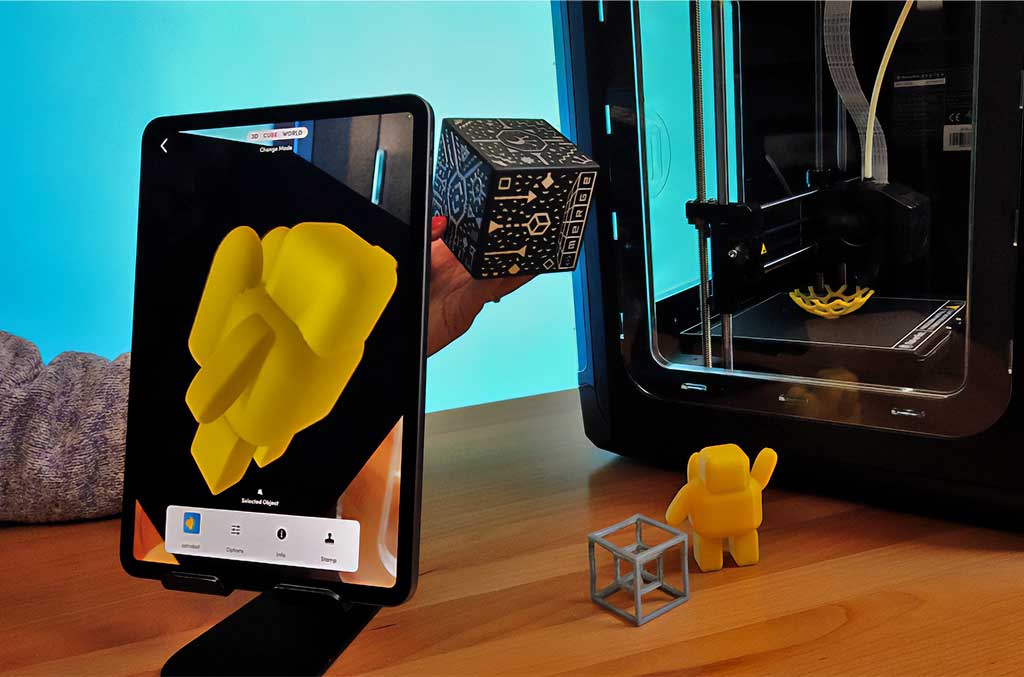 Visualize and manipulate designs
The Merge Cube allows designers to visualize and manipulate their designs in 3D, allowing them to better understand the form, function, and appearance of their creations.
Visualizing your 3D creations on the Merge Cube makes it easy to inspect them up close from all angles, and to share with teachers and classmates for feedback.
The Merge Object Uploader accepts OBJ, FBX, STL, and GLTF file types, as well as ZIP archives containing the model and associated textures (so long as the model is one of those four file types).
Test and iterate designs
The Merge Cube can be used to test and iterate designs in a virtual setting, allowing your students to make changes and improvements before committing to the final design.

Save time and resources
Merge Uploader allows students and teachers to upload their own 3D objects to be viewed on the Merge Cube using the Object Viewer app. Students can visualize their own 3D creations in the palm of their hand, allowing for rapid iteration, sharing, and feedback during the creation process. It can also be used as a "print preview" tool when 3D printing, or can be an alternative to 3D printing altogether.
Using the Merge Uploader along with the Object Viewer app to visualize your own 3D creations on the Merge Cube will let you share your creations with peers, get feedback for improvement, and even preview your 3D creations before 3D printing to save time and material.
More About Merge EDU
Merge EDU is a hands-on digital learning platform that helps students learn science and STEM with 3D objects and simulations they can touch, hold and interact with. Bringing AR into your school with Merge EDU will deepen student engagement in science and STEM, help students understand complex concepts more effectively, give them first-hand experience with technology that will shape their future, and teachers will be experts in no time with easy-to-follow guides and curriculum-aligned activities. Your teachers and students will know they are getting access to the best tools available, helping bring your school performance and culture to new heights.
To learn more about Merge EDU, visit www.MergeEDU.com.