How Students Can Transform Physical Objects into Digital 3D Models with Merge Scanner
Merge Scanner, the newest app from Merge EDU, allows students and teachers to 3D scan virtually any physical object.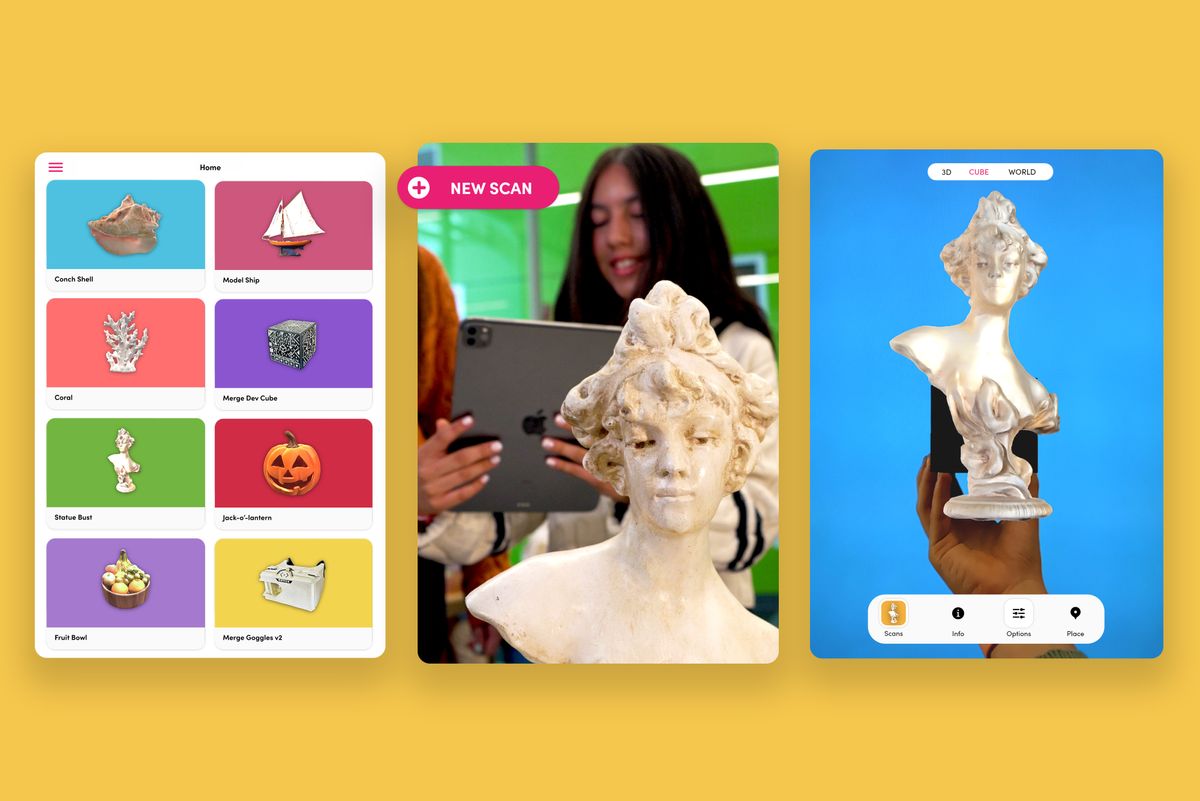 With Merge Scanner, students can capture their physical creations, local artifacts, food, plants or even family heirlooms and convert them into digital 3D models.
Adding Labels to Scans
Merge Scanner seamlessly integrates with Merge EDU, providing an additional layer to the learning experience. Within Merge EDU, students can add labels and descriptions–highlighting specific features of their 3D scans, and enhancing their educational value. Since students can create detailed, informative models, their projects can be used for reflection, sharing, and assessment. Learn how to add labels to your 3D scan in Merge EDU here.
Creating Custom Collections
Merge EDU allows students and educators to create custom collections of 3D scans, organizing them in a way that enhances learning and exploration. Whether it's a collection of historical artifacts, student-created sculptures (and anything in between), Merge EDU provides a structured, interactive platform for collecting, viewing and exploring 3D scans. Learn how to create custom collections in Merge EDU here.
Using for Cross-Curricular Projects
English, art, history, math, and science projects often involve creating physical models. With Merge Scanner, students can now scan their creations, converting them into digital 3D models that can be held on a Merge Cube, placed back into the real world, explored from all angles, and shared virtually. This not only preserves and digitizes their creations, but with the ability to add labels and descriptions, students can add additional information.
Sharing and Collaborating Globally
In our interconnected world, the ability to share and collaborate is a must. Merge EDU allows students to share their 3D scans with teachers, classmates, and anybody around the world, transcending geographical boundaries. This global sharing capability not only allows for feedback and collaborative learning, but also exposes students to diverse perspectives and ideas, enriching their educational journey. Learn how to share in Merge EDU here.
Merge is creating a future where education is not confined to the limitations of physical objects. By enabling students to convert the physical world into a shareable and virtual format, we are not only preserving the past and present but also creating a dynamic platform for learning, sharing, and exploring that will continue to impact future generations.
To learn more about using Merge Scanner, be sure to read the help article here.